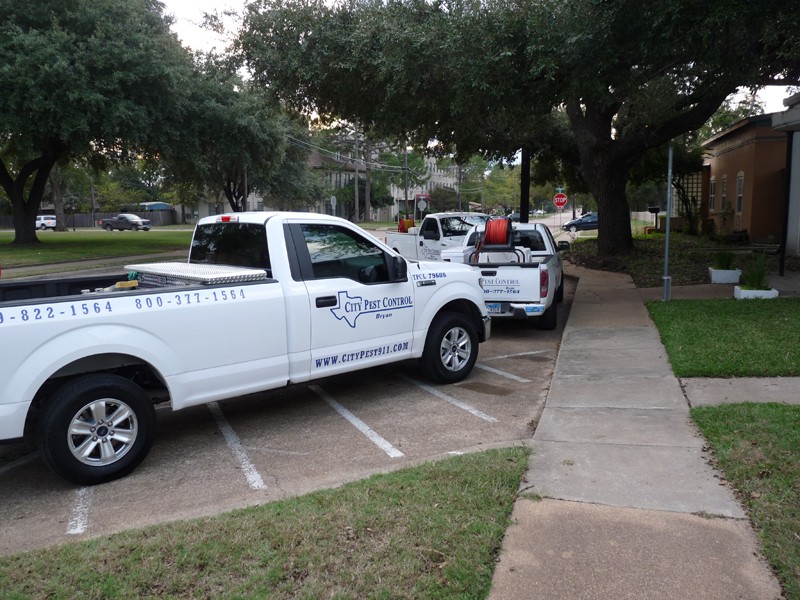 Our Process
With certified applicators in the categories of Pest Control, Termite, Lawn and Ornamental, Aquatic and Terrestrial Weed Control, we can effectively handle all of your commercial pest control needs. City Pest Control complies with all regulations and guidelines set forth by the TDA/Texas Structural Pest Control Services. We conduct an initial inspection, followed by recommendations and treatment to control your immediate pest problems. Our maintenance service is scheduled Monthly, Semi-Monthly or Bi-Monthly depending upon your needs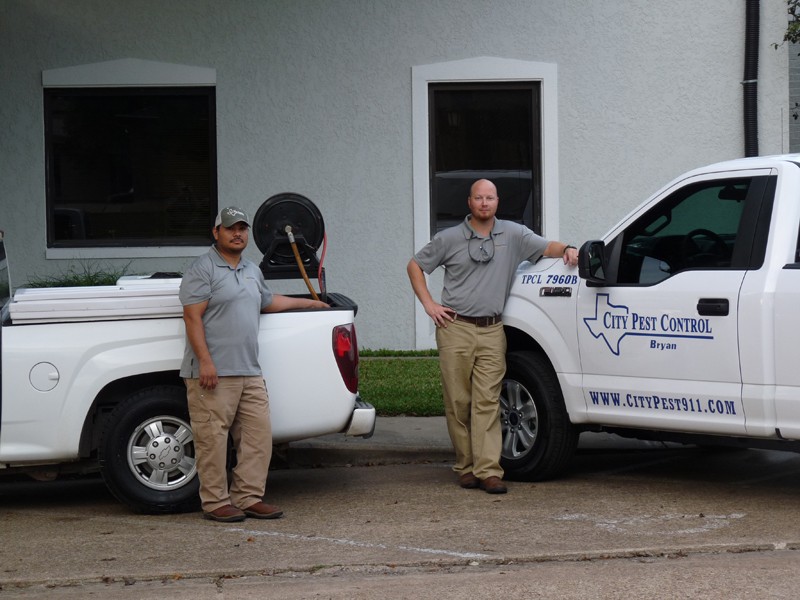 Services Frequencies to Fit Your Needs
Initial Inspection at no charge
Recommendations based on current needs with flexibility to modify programs as needed
Initial Cleanout
Semi-Monthly Service
Monthly Service
Bi-Monthly Service
Quarterly Service
Termite Control
What type of Subterranean commercial termite treatments will we perform?
Liquid Barrier Soil Treatment
This involves forming a pesticide barrier in the soil by drilling through masonry and/or trenching the exterior around your foundation walls and placing a liquid termiticide into the ground. An inspection will be made and a diagram of your structure will determine how we will form a continuous chemical barrier.
Borate Treatment of Wood
This application involves a water-soluble borate powder that will be directly applied as a liquid spray onto wood and cellulose materials. Depending on the moisture content of the materials, the liquid solution will penetrate to create a protective envelope, acting as a preservative, insecticide.
Pest Control
Bryan/College Station is home to a wide variety of insects, rodents and wildlife. However, if these pests come into your business, you may find yourself facing an unwanted infestation. When that happens, turn to City Pest Control to solve all of your pest needs!
Rodent Control
Similar to your Residential rodent control services, we offer commercial rodent control services. The biology and habits of rodents can make them difficult to control, and they present a serious menace to your business. City Pest Control rodent control services include the following:
Exterior bait stations
Interior monitoring and Trapping
Exclusion Services Using Proper Construction Techniques
Our exclusion involves the sealing of entry points around your home. While this is extremely important as part of an overall corrective strategy, it also prevents the reintroduction of nuisance wildlife, mice or rats. Rodents and wildlife are significantly reduced or eliminated from your home initially, but if conducive openings around your home continue to exist, it will simply be a matter of time before a new infestation occurs. Opening conducive to pest entry include: soffit or fascia board gaps, openings within foundation walls and gaps greater than ¼" underneath entry doors to name a few.

Based on customer request we offer complete remodel and repair construction services. This service ranges from capping chimneys to complete interior tear out and remodels. All construction services include on site surveys, written bids and customer satisfaction guarantees.
Urban Wildlife Management
The purpose of urban wildlife management is to establish a set of policies and guidelines for managing wildlife. Our urban wildlife management services include providing exclusion techniques to an area so we that we change the character and functionality of the of entry points. These changes significantly impact local habitats, so that a corresponding shift in wildlife populations occurs.
Catch and Release
City Pest Control offers catch and release services as a part of an urban wildlife management plan. We follow the laws as set by Texas Department of Fish and Game to ensure the best and most humane practices are used for our services.
Verified Customer Reviews
Dianna Dinorscia
Awesome pest control service!! Owner Mike Scofield is a genius ! He can get rid of any pesky pest you have. He can also tell u the name of any pesky pest you have. So if you want to get rid of ants or bats or creepy pests you have no idea what they are call CITY PEST CONTROL and your problems are solved. His technicians on staff are also great. What can I say ............. I LOVE CITY PEST CONTROL!! Thanks Mike!
Click here to view more reviews!